MANY expressed disappointment on Sunday evening when they turned up at Drums of Freedom's annual cultural exposition at Ellie Mannette Park, George Cabral Street, St James and their favourite steelband was a no-show. The band in question was Petrotrin Phase II Pan Groove, the 2008 National Panorama champion.
Band manager Errol Skerritt did turn up and explained that the band's musicians had all assembled at its Hamilton Street panyard in Woodbrook, but its drummer had an emergency to attend to, plus its tuner was under the weather.
Nonetheless, many of the other acts invited did turn up, including Angostura Woodbrook Playboyz, Brother Resistance, Karega Mandela, Scrunters Pan Groove, Sister Ava, Abebele and Ato. Addressing the audience, after children were treated to gift bags of cake, ice cream and other goodies earlier in the evening, was community cultural historian Norman Darway.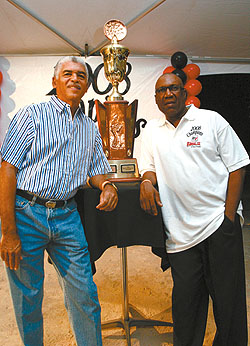 Usually, the Drums of Freedom gig, spearheaded by Nyron Greenidge and David Achee, is held over two evenings, the opening night being a dedication to reggae music, rapso and the oral traditions. This year, the event was held only on Sunday, was in tribute to late St James cultural icon and master drummer/philosopher Mansa Musa, and attracted a wide cross section of the St James community and its environs.
For the St James community, the weekend was one chock-filled with exciting entertainment as on Friday evening, Petrotrin hosted a celebration reception for Phase II. This event was attended by many renowned cultural personalities and a large contingent from the band's sponsor.