Meet Ray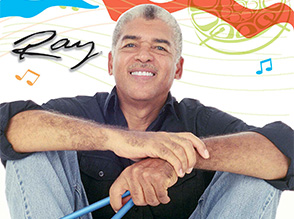 Composer, arranger and steel drum performer from Trinidad, Ray Holman is perhaps the most talented proponent of his art form internationally.
He has arranged and recorded with steel bands and artists in the U.S., Canada, Latin America, Japan and Europe, including televised performances with the German National Orchestra which showcased his compositions. He composed the highly acclaimed score for Black Orpheus, staged by Crossroads Theatre Company in New Jersey in 1991, and has been a featured performer in film, television and at venues such as Madison Square Garden, the Super Bowl and the St. Lucia Jazz Festival.
A University of the West Indies graduate and former high school teacher, he has conducted workshops at West Virginia University and was a Commissioned Composer in the California State University Summer Arts Program. He regularly attends the bi-annual steelband tuning and arranging workshop at Humboldt State University in Arcata, California and has done presentations at meetings of the Percussive Arts Society. During 1998-2000 he was a distinguished Visiting Artist in the Ethnomusicology Program at the University of Washington, Seattle.
Ray has won many prestigious musical awards, including the Hummingbird Silver Medal of Merit from the Government of Trinidad and Tobago and a Pan Legend Award from the New York Folk Arts Institute and the U.S. Congress. He was recognized for his musical contribution by the Republic Pan Fiesta 2003, A Tribute to Ray Holman.
IN 1957, Ray began playing pan at 13 with Invaders Steelband, led by legendary pan tuner Ellie Mannette. Later, he became its arranger, doing classical interpretations such as "Dream of Olwen" and "Etude in A b."
In 1963, Holman and others revived the band Starlift, and his arrangements made it the then most popular band in Trinidad. He had instant success with "I Feel Pretty" from the musical "West Side Story."
At 20, he became the youngest player to win the solo Ping Pong (an early version of the tenor pan)competition in the 1964 Trinidad and Tobago Music Festival. He began experimenting with the jazz idiom as a soloist, while touring and performing on television with the Queen's Royal College Jazz Group led by his teacher Scofield Pilgrim.
Ray emerged as the most musically progressive steelband arranger, and his innovative arrangements won two Panorama championships for Starlift in 1969, with Lord Kitchener's "The Bull" and in 1970 with the Mighty Sparrow's "Queen of The Bands". In 1972, he became the first arranger to compose and play his own music for the National Steelband Panorama competition. Appropriately titled "Pan On the Move," the composition won the National Preliminaries and is now a musical landmark. Since then, he has arranged for many top steelbands, including Pandemonium, Carib Tokyo, Exodus, Phase II Pan Groove, Hummingbirds Pan Groove.
His first CD, A Tribute to Ray Holman, featured eight of his Panorama compositions. With his jazz sensibility and unique improvisational style, Ray continues to delight audiences worldwide with the timeless quality of his music.