Barbados Advocate
By Allison Ramsay
It was all about pan jazz on the first night of the Barbados Pan Festival.
The rain did not stop patrons gathered on Saturday night from enjoying the show 'Pan Jazz and the Legends' at the Herbert House, Fontabelle, St. Michael.
It was a relaxing atmosphere at Herbert House as patrons including cricketers Rev. Dr. Wes Hall and Vasbert Drakes listened to the music provided by the Ray Holman Quintet, Andre Woodvine, Duvone Stewart, Rosemary Phillips and the Neo- Coustic Jazz Band.
The Ray Holman Quintet was well received. Widely travelled composer, arranger and steel pan performer from Trinidad, Holman, played several songs such as "Since I Fell for You",'Lord Kitchener's' "Pan in Harmony" and selections from his album such as "Charlotte Street." His skill was evident to those who watched him play. And, during his performance, Andre Woodvine accompanied him on saxophone.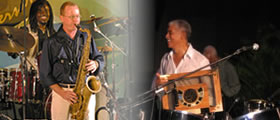 Fellow Trinidadian, Steelband arranger, tutor, and pannist Duvone Stewart graced the stage of t he Barbados Pan Festival for the first time this year but regrettably performed only two solos. Indeed, his passionate playing left the audience wanting more. Andre Woodvine and his backing band also performed that night. Some of Woodvine's music was fea tured from his album "Some Assembly Required." Jazz singer Rosemary Phillips ended the more than three hour show. Phillips backed by Woodvine and Stewart dedicated her performance to the late El Verno del Congo and even sang "Welcome the Morning Sun." S he further thrilled the audience with her voice when she sang songs from her album such as "When A Man Can't Decide."
On Sunday night, the festival continued with the show called "Pan Jammin". It featured acts such as Andy Narell, Ralf Robertson Trio, Lord Realtor and Lion, the Mike Sealy Band and Pan Extreme.