By Ray Funk
Wednesday, April 30th 2008  - Trinidad & Tobago Express
Like a bright ray of sunshine, Ray Holman came to Fairbanks, Alaska and led five local steel bands through a memorable program of his compositions that drew a standing ovation from a large and very appreciative audience. As he arrived, the weather broke and the snow started to melt. As he rehearsed the various groups who would be performing, and despite fears it would be a chilly reception in such a cold place, he found everyone very cheerful and friendly, hungry to hear pan.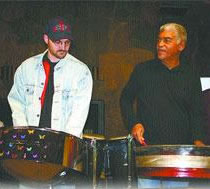 A mainstay in promoting the development of pan around the United States, Holman has been performing and teaching from one end of the United States to the other. But this latest trip took him from Arizona to two states he had never previously been, the 50th and 49th, Hawaii and Alaska. Hawaii's Brigham Young University provided him with tropical beaches and eager students.
But Alaska offered five separate steelbands, all ready to perform his tunes in a place with a layer of snow lingering from a long winter that had arrived in October and never left. Throughout the winter, Christopher Lubken, band and steelband teacher at West Valley High School, and instructor at the University of Alaska Fairbanks, had been drilling the bands on Holman tunes in order to take the greatest advantage of Holman's stay.
Lubken also leads Pantheon, the small pan side that performs in everything from restaurants to hockey games. This band plays year-round, saving all its gig money to send all five members to the Festival of Steel that Ellie Mannette leads in Morgantown, West Virginia every summer. For the past several years Christopher Lubken and Pantheon met Holman each summer in Morgantown, where he is one of the distinguished faculty. Lubken fell in love with the Holman compositions that they learned each summer and started talking to Holman about making the journey to the Frozen North. After a couple years of planning and ongoing discussions, it was a combination of fitting it into Holman's busy schedule, as well as the right set of grants, that finally allowed the visit to be realized.
Pan didn't exist in Fairbanks until a decade ago when the University of Alaska Fairbanks Music Department purchased a set of five instruments and Jo Scott, who runs the Fairbanks Summer Arts Festival, started working to develop a summer program with leading American panist Tom Miller. It was Miller, another of Mannette's faculty each summer, who started encouraging Lubken and other pan enthusiasts to go to Morgantown so that now an annual contingent from Alaska attends. Meanwhile, Lubken, who had no experience with pan before coming to Alaska, worked hard to get the Rasmuson Foundation to provide the funding for the instruments at the high school. The West Valley Steel Drum Band program has grown and is the largest of three high school steelband programs in Alaska. Last year, the advanced steelband at West Valley won honors at the finals of the state school music festival, not to mention a thunderous ovation, for their performance of Mark Loquan's "The Challenge is Minor". They are planning on attending the state music festival again this year and will be playing Holman's "Dancing on a Wave".
Beyond these five groups, Fairbanks also has an outstanding community steelband, Cold Steel, which hosted a reception for Ray Holman on his last evening in Alaska. Musical director Mason Damrau, pan and pan record collector extraordinaire, brought out a beautifully preserved old Mannette styled tenor pan from the fifties. Ray Holman was thrilled and amazed to see such an instrument anywhere, much less in the wilds of Alaska. He kept everyone mesmerized with renditions of the songs he played as a teenager in Invaders' yard, getting the Alaskans to join him in singing Blakie's "Steelband Clash" and Cristo's "Frozen Chicken" and "Miss Universe", as well as Merchant's "Pan in Danger". A highlight of both the concert and the party the next night was a new composition that Ray Holman composed only a few weeks ago, "That I Believe", a message of peace and unity in a time of turmoil that struck a chord with all who heard it. Everyone at the reception sang along at his request as he ended a wonderful set of solos, along with a few duets with Chris Lubken.
GENERATION: "Old Mannette style pan", -Photos: Sue Roston
While in many ways pan may be in danger, masters like Ray Holman are spreading the joy of pan all over the world, even to the Frozen North!